It's a bonus "best of" edition of
Steph
and
Jana
's Show Us Your Books, in which we highlight our favorite books of 2015. Note that these are books I
read
in 2015, but that's not necessarily when they were published.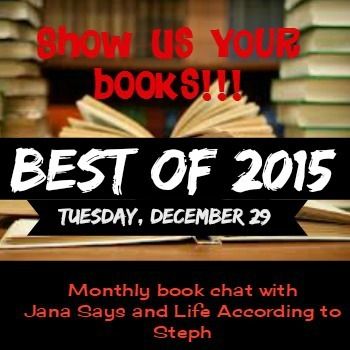 I thought about listing these in some sort of order, but they don't deserve to be ranked; they're all so different. So, in no particular order:
You
by Caroline Kepnes - This book is crazy. It takes the reader inside the mind of a stalker/serial killer and somehow makes him likable. (My blog post about this book was in
August
.)
Saving Francesca
by Melina Marchetta - A YA novel that is truly a coming-of-age book. I loved the characters and the story. There's a follow up book (focusing on one of the other characters five years later) and I'm planning to read that one in 2016. (Also
August
)
Big Little Lies
by Liane Moriarty - 2015 was the year I finally read Liane Moriarty and I read three of her books. I enjoyed all of them, but if I have to choose, this is my favorite. Moriarty does a great job of weaving different stories together and I like to call her books "chick lit with a purpose." (
November
)
The Girl on the Train
by Paula Hawkins - This seemed to be the "It" book in early 2015 and in my opinion, it lived up to the hype. The characters are unlikable but I didn't even care. This really kept me guessing and on the edge of my seat. (
May
)
The Martian
by Andy Weir - This book made the list because I resisted it for months, thinking there was no way I'd like it, and then I was proven wrong. There's a lot of math and science that went right over my head but it didn't even matter. The story itself was gripping and the narrator was sarcastic and funny. (
October
)
Leaving Time
by Jodi Picoult - I've always been a fan of Picoult. Many people talk about how formulaic her books are and that's somewhat true, but it's never turned me off. But this one is a bit different and had a twist that I wasn't prepared for. This book came to me at just the right time and while I know I said I didn't want to rank them, this would probably be my personal number one book of 2015. (
June
)
Are any of your favorites on this list? What books did you love this year?