OK peeps, it's that time again!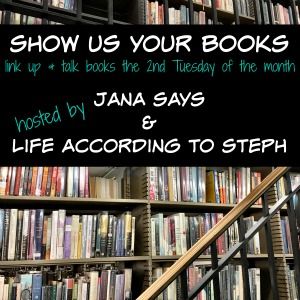 Interestingly (to me) most of my selections are audio books this time around.
She Can Run
by Melinda Leigh - I chose this as my "freebie book" for
Erin
's challenge. In this case, freebie had multiple meanings. The challenge category was "any book at least 200 pages." I got the Kindle version for free through Kindle Unlimited and little did I know that included an audio version as well! I had a day in February in which I was in the car for 8 hours and sat in a waiting room for 2 hours so I knocked this book out in one day since I was able to listen
and
read.
ANYWAY
, the book was predictable in many ways but still entertaining for me. This is the first of a series, but it looks like with each succeeding book the main character was a peripheral from the book before. I like that idea.
Modern Romance
by Aziz Ansari - This was for my IRL book club. It's not a memoir, but an actual study of what it's like to date in the age of technology. As someone who's been in a monogamous relationship for going-on-29 years, I couldn't relate to a lot of this but it was fun listening to Aziz read it himself (even though he constantly teased the audio book listeners for being too "lazy" to actually read the book).
Driving with the Top Down
by Beth Harbison - This was my one non-audio book. It's about a woman, her niece, and her college best friend who are all going through difficult times but end up on a road trip together and discover that it's OK to rely on others for support (and that people will actually be there for you). Also, I love the cover. (This was my "starts with the letter D" choice for Erin's challenge.)
Who Do You Love
by Jennifer Weiner - Rachel and Andy meet as kids and even though they live hundreds of miles apart, their paths continue to cross over the years. There were times when I wanted to throttle these two, but I also understood them in different ways. I wish there had been an epilogue. I felt the ending was a bit abrupt, but overall I enjoyed this one.
Try Not to Breathe
by Holly Seddon - I'm pretty impressed that this is a debut novel. I was pretty sure I knew whodunit but I was still intrigued by the story. Teenage Amy disappeared 15 years ago and was found a few days later beaten and unconscious and has never woken up. Alex is a journalist with a lot of baggage who becomes obsessed with Amy's story and is determined to find justice for her. I loved this as an audio book; the narrator was very good and although the story is told from different points of view, only Amy's side was read by a different person. For some reason I felt that was important.
What's on your bookshelf?